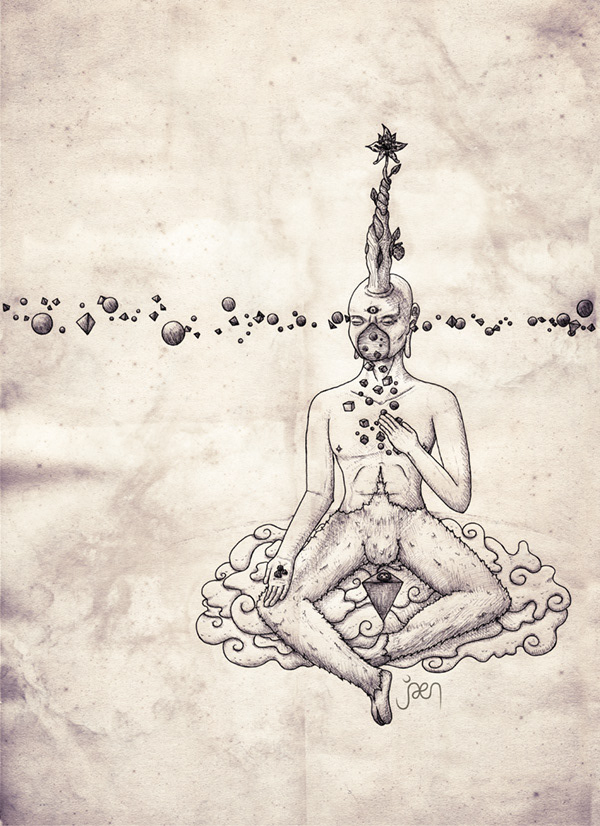 I was raised with the major arcana of the Tarot of Marseilles, and I have always been fascinated by the richness of its symbolism, combining aesthetic, philosophical, alchemical, religious, magical, occult, astronomical, astrological and mythological concepts into a sum of surprisingly well-ordered units (cards) which, in the field of fortune telling, can describe anything from personal problems to the fate of mankind. And if you follow them in order, from the Magician to the World (meeting the Fool anywhere you want), you will have an amazing story. These large drawings (A2 paper) are very personal and unorthodox interpretations of these deep wonders. Original pieces are available on demand.
J'ai grandi avec les lames majeures du Tarot de Marseille, et j'ai toujours été fasciné par la richesse de leurs symboles, mixant des principes esthétiques, philosophiques, alchimiques, religieux, magiques, occultes, astronomiques, astrologiques et mythologiques en une somme d'unités (les cartes) étrangement bien ordonnées qui, dans le domaine de la divination, peut décrire aussi bien des problèmes personnels que le destin de l'humanité. En outre, si vous les regardez dans l'ordre, depuis le Magicien jusqu'au Monde (en passant par le Mat au moment qui vous siéra), vous obtiendrez une histoire proprement extraordinaire. Ces grands dessins (feuilles A2) sont une interprétation très personnelle et peu orthodoxe de ces petits bijoux de profondeur. Les originaux sont disponibles sur demande.
          子供の頃からマルセイユ版タロットの大アルカナのシンボリックな豊かさに見とれた。美学、哲学、宗教、黄金術、魔法、オカルト、天文学、占星学、神話などの要素から意味するカードができること、すごいと思う。占いのために使用すれば、個人的な困難から人類の運までなんでも表現できるみたいだ。最初の魔術師から―どこかに愚者を通して―最後の世界まで読めば、非常に興味深い話になるのだ。ここで乗せた大きなデサンは個人的で外道の分析である。
Prints and goodies are available on Society6.