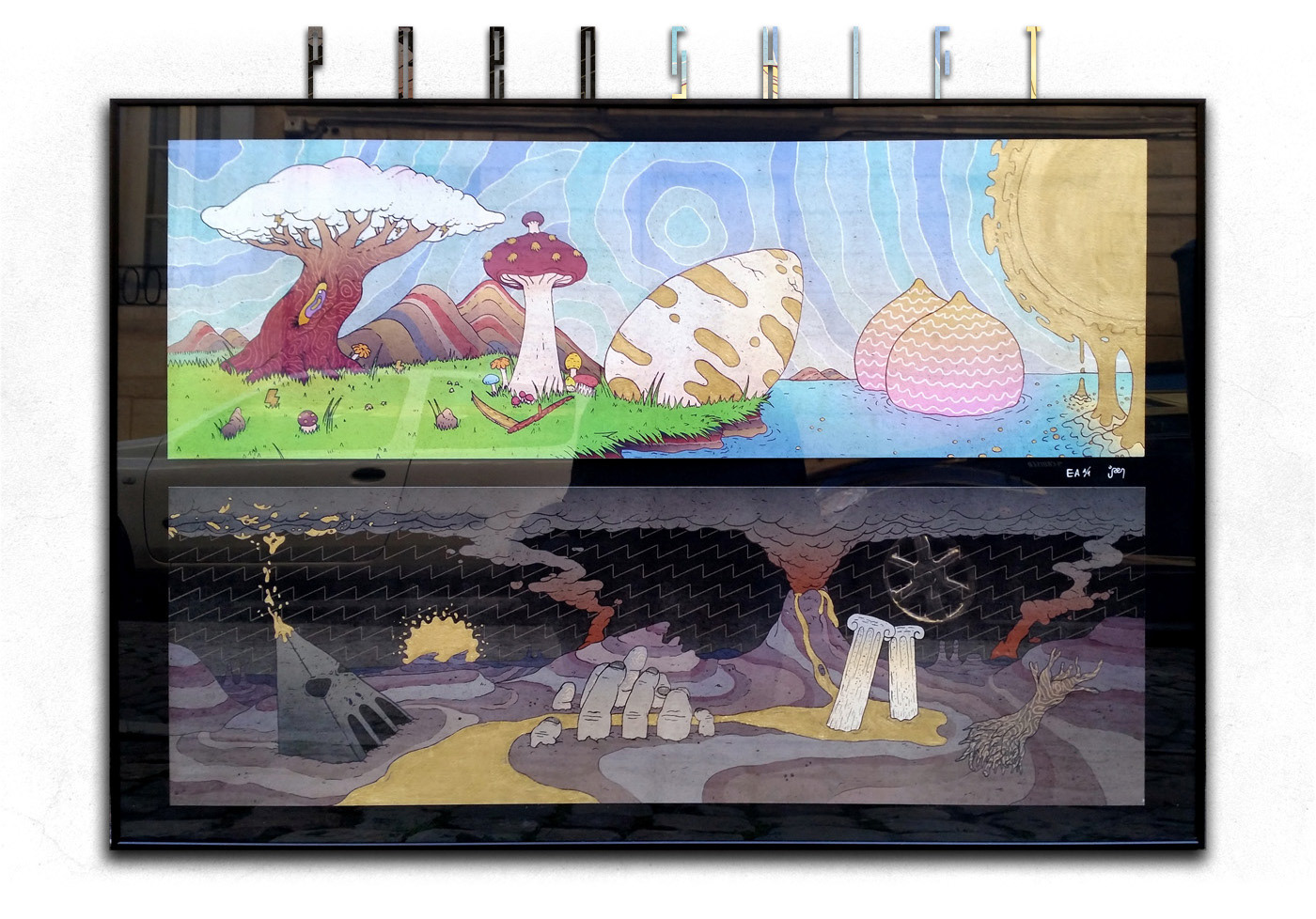 "ParaShift" is a diptych evoking two mythological bodies laying down in their symbolic landscape. It's my first attempt at combining traditional and digital magic: the first phase is an original drawing, scanned to be enhanced with digital colours and textures, then printed with archival ink on Innova's beautiful Rought Textured paper, to be finally hand embellished with a mix of bronze powder and acrylic.
Parashift

est un diptyque évoquant deux corps mythologiques allongés au milieu de leur paysage symbolique. C'est ma première tentative de mélange des magies traditionnelles et numériques : la première phase est un dessin original, scanné pour être augmenté avec des couleurs et textures numériques, puis imprimé avec un encre de qualité archive sur le magnifique papier Rough Textured d'Innova, pour être fini à la main avec un mélange de poudre de bronze et de vernis acrylique.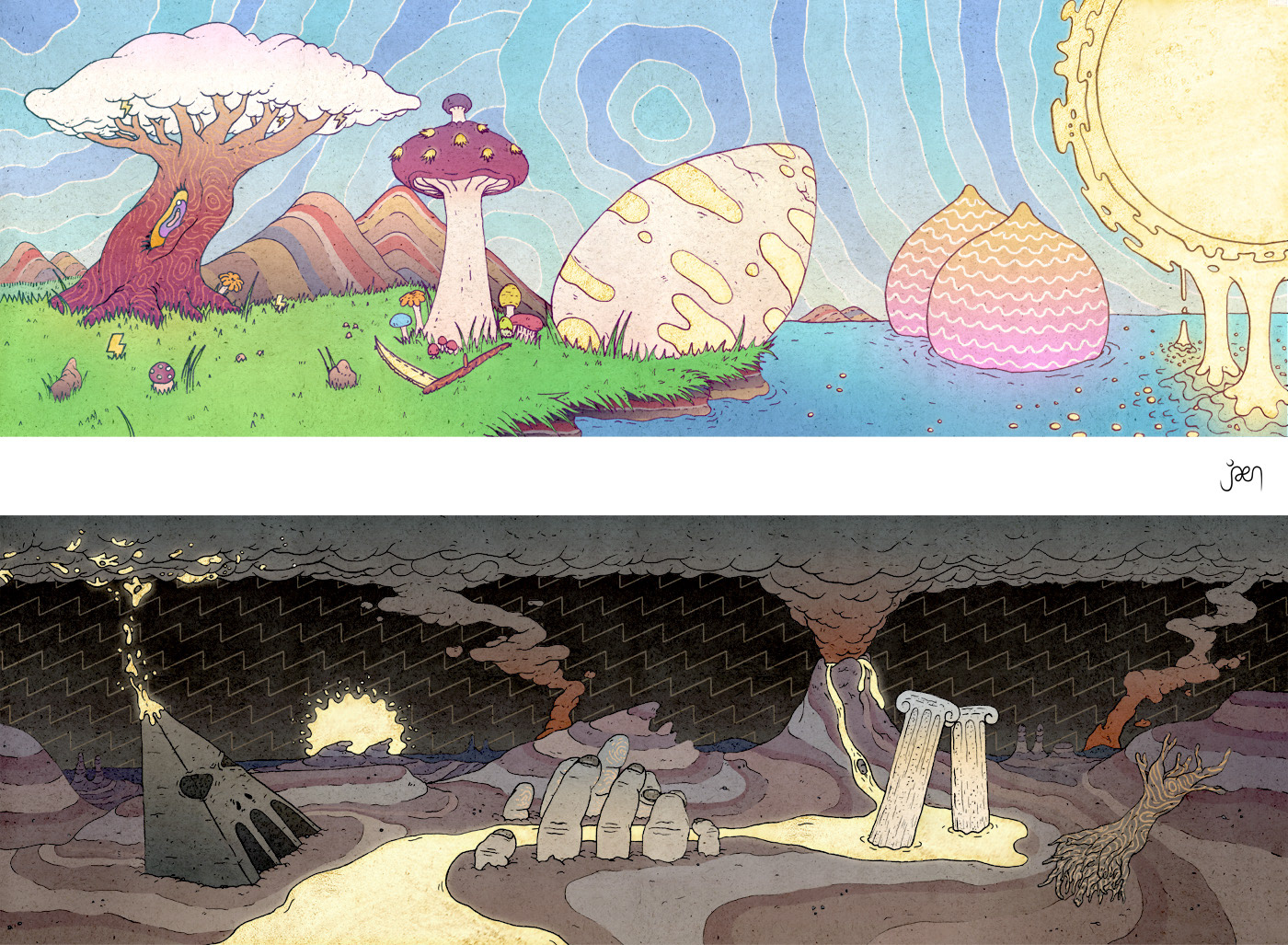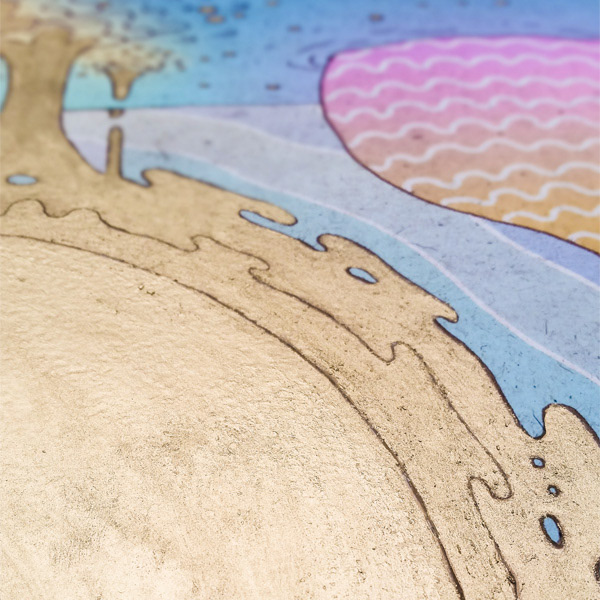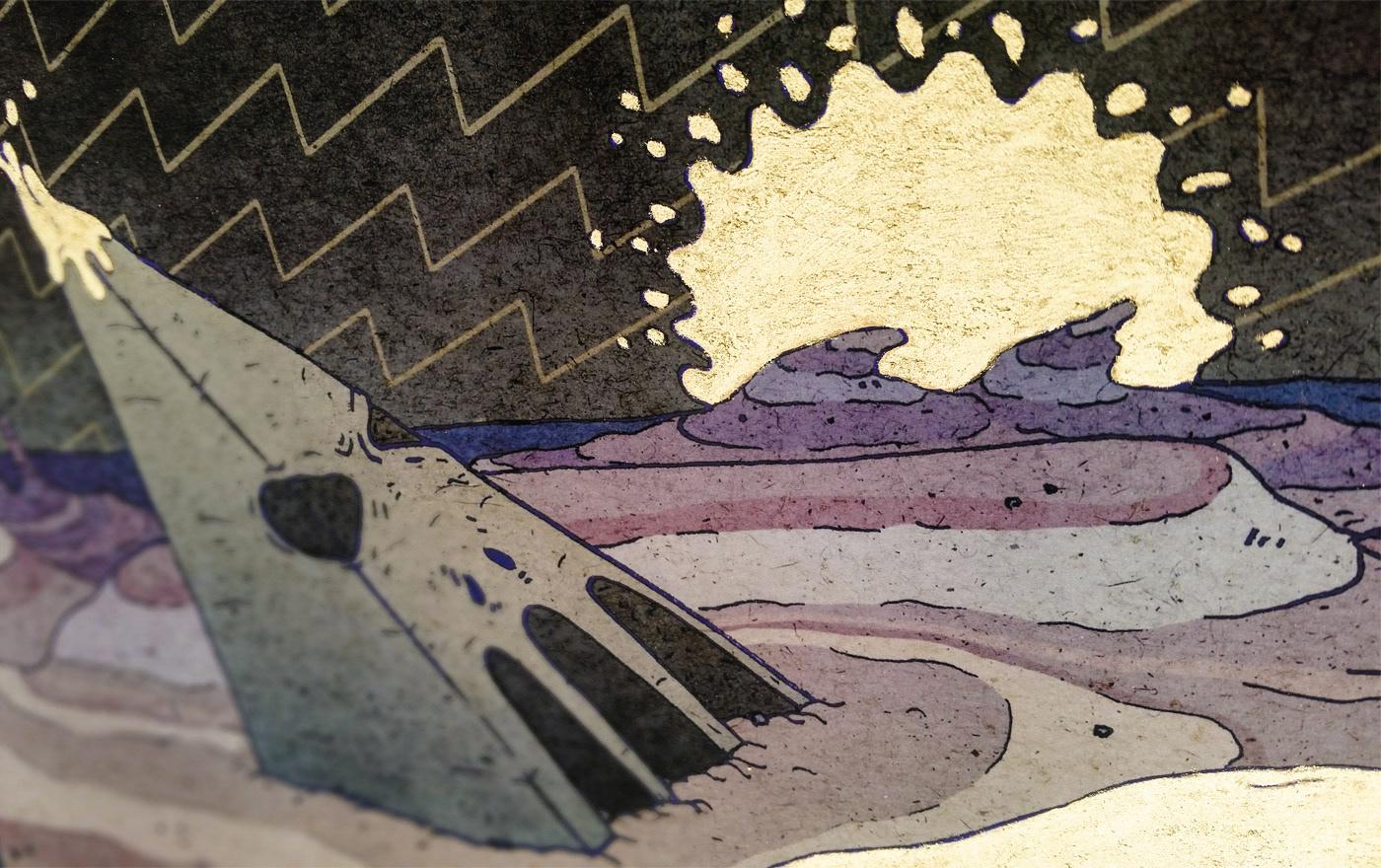 The bottom "body" is the dying paradigm: decay, concentrated resources evaporating with the death of an obsolete hierarchy, greedy hands becoming stiff as a corpse, with no heart to be seen. Its last use of a patriarchal power is a self-destructive eruption, striking the coup de grâce to a world standing on irrelevant and precarious society ideals, where nothing wanted to root anymore, .
Le "corps" du bas est le paradigme moribond : agonie, une concentration de ressources s'évaporant avec la mort d'une hiérarchie obsolète, des mains raides comme un cadavre, et nul cœur à l'horizon. Sa dernière utilisation d'un pouvoir patriarcal est éruption autodestructrice, portant le coup de grâce à un monde tenant sur des idéaux de société bancals et hors-sujets,  où rien ne voulait plus s'enraciner.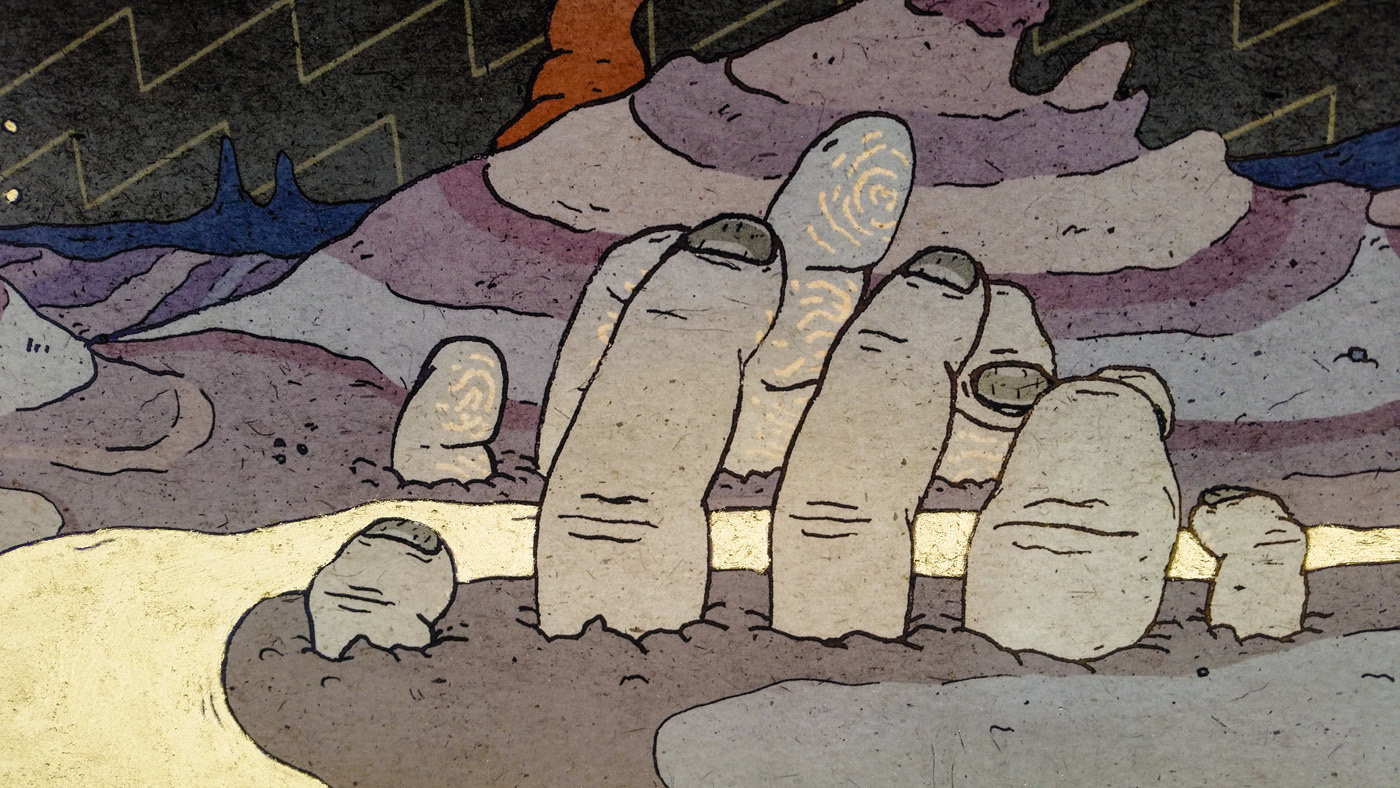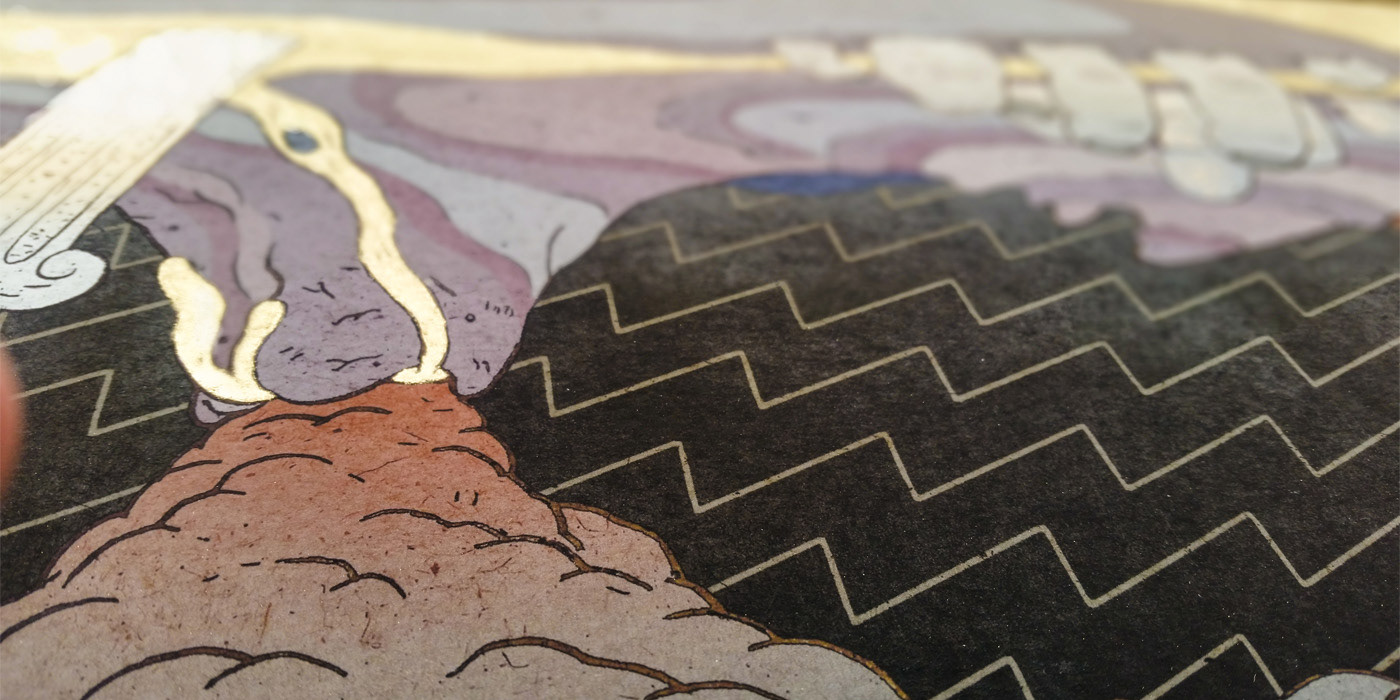 The upper "body" is the new paradigm: standing on a foundation of life, power and wisdom, sourcing its strength from an exquisite diversity and the room kept for chaos and organic change, knowing when to cut through possibilities. It harnesses the power of creation, nurturing, cleansing and enlightening.
Le "corps" du haut est le nouveau paradigme : il se tient debout sur des fondations de vie, de puissance et de sagesse, tirant sa force d'une exquise diversité et de la place laissée au chaos et au changement organique, sachant quand trancher à travers les possibilités. Il maîtrise la pouvoir de la création, prend soin, purifie et éclaire.