In 2018, Mickey celebrated his 90th birthday. In collaboration with Disney France and Quai 36, I had the pleasure to be asked to make the iconic mouse my own. The work adorned the walls of Bordeaux, with over 30 Mickeys hiding in the city. The same event, with other local artists, took place in Paris, Lyon and Marseille, and the most active city in the Mickey hunting, measured via hashtags on social media, won an exclusive Disney event to celebrate even more the birthday. And mine won :)
          En 2018, Mickey a fêté ses 90 ans. En collaboration avec Disney France et Quai 36, j'ai eu le plaisir de me voir confier une réinterprétation de l'iconique souris à ma sauce. L'œuvre orna les murs de Bordeaux, avec plus de 30 Mickeys cachés dans la ville à découvrir. La même chose, avec d'autres artistes locaux, se déroua à Paris, Lyon et Marseille. La ville la plus active dans la chasse aux Mickeys, mesuré avec des hashtags sur les réseaux sociaux, a eu droit à un évènement exclusif Disney pour célébrer encore plus cet anniversaire. Et c'est donc ma ville et mon illustration qui ont gagné :)
         In 2014, I had a dream where I could immerse my hands inside the screen of an old B&W TV, tweaking the body of a poor Steamboat Willie-era Mickey, eventually turning him into a kind of centaur freak. Reflecting on the character's legendary status and how many transformations he had gone through all these years, I wanted to keep that ever-changing vibe from the dream, mixing it with the night magic of Fantasia on the way. The first concept you can see below was deemed too abstract, obviously, as people had to recognize him from far away.
          En 2014, j'ai fait un rêve dans lequel je pouvais immerger mes mains dans l'écran d'une vieille télévision en noir et blanc, transformant à mon gré le corps du pauvre Mickey (époque Steamboat Willie), qui a fini en sorte de centaure monstrueux. Réfléchissant au statut légendaire du personnage et à ses multiples transformations à travers ces décennies, j'ai voulu garder cet état de métamorphose constante qu'il y avait dans le rêve, le mélangeant avec la magie nocturne de de Fantasia. Le premier concept que vous voyez ci-dessous a été rejeté car trop abstrait, les gens étant censés pouvoir reconnaître le rongeur depuis une certaine distance.
          I kept it the dreamy, surreal, Fantasia-infused setting from the initial sketch, took the iconic "hands behind the back pose" and transformed its tail into a self-introducing giant hand.
          J'ai gardé l'ambiance onirique et surréaliste du concept originel, pour ajouter la fameuse pose "les mains derrière le dos" et transformé sa queue en une main géante, le présentant au spectateur.
          The result, "Essence M", was a more defined Mickey, yet retaining the essence of change from the old dream, embodying almost a century of countless iterations and re-designs of Disney's mascot. After discovering Bordeaux had very scarce vertical format ads, I had to a last minute wider version, adding a good amount of background.
           Le résultat, "Essence M", était un Mickey plus défini, sans pour autant se départir de la malléabilité du vieux rêve, incarnant quasiment un centenaire de multiples itérations et altérations de la mascotte de Disney. Après avoir découvert une pénurie d'affichages en format "pantalon" disponibles à Bordeaux, j'ai du faire en urgence une version plus large, ajoutant une bonne dose d'arrière-plan.
          In the background, amidst the mountains and clouds, you can hunt for pareidolia nods to the old friends of Mickey. I added 2 suggestive shapes for characters linked to the origins of the icon forthe wider version: Oswald the Lucky Rabbit, of which Mickey is kind  of a reincarnation, and Flip the Frog, who is a Disney character, but one that Mickey's original designer, Ub Iwerks, took with him when leaving Disney.
          Dans le fond, au sein des montagnes et des nuages, on peut partir à la chasse aux clins d'œil paréidoliques aux vieux amis de Mickey. J'ai ajouté 2 formes suggestives pour des personnages liés à l'origine de l'icône : Oswald le lapin chanceux, dont Mickey est presque la réincarnation, et Flip la grenouille, un personnage n'appartenant pas à Disney mais à Ub Iwerks, le dessinateur originel de Mickey, qui le pris avec lui lors de son départ de Disney.
Yours truly, happily and awkwardly unrolling the 158cm tall art print that went to Disney France, in front of a local weird being that is called an influencer.
          Votre serviteur, heureux et maladroit dans sa tentative de dérouler le tirage d'art de 158cm de haut qui est parti chez Disney France, devant cet étrange chose que l'on appelle un influenceur.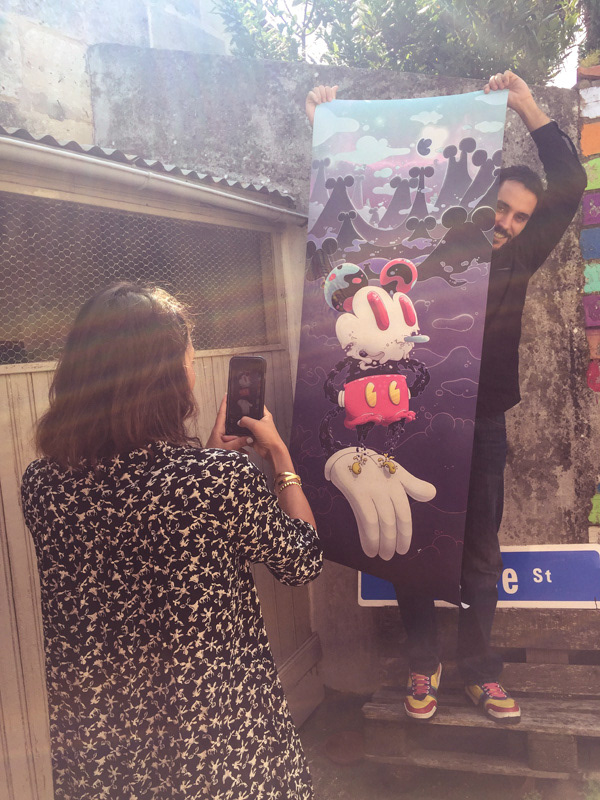 And thus, the hunt began!


Et ainsi commença la chasse!
And a year later, I had another opportunity with Disney US / World to give Goofy the surreal magic treatment.
Et l'année suivante, j'eus l'opportunité avec Disney US / Monde de passer Dingo à la magie surréaliste.