Le bordelon, a
 personal character design project born out of a desire to create a local mythological creature (Bordeaux, Fr
ance)
, which design would feature elements of sheer Bordelaise idiosyncrasy:
- The antlers, made of wood, evoke vine stocks
- The 3 moons shaped stripes on each arm come from the
monogram of Bordeaux
, whose port is nicknamed "The Port of the Moon" because of the shape of the Garonne river
- The colour is a flashier version of red wine tone (more purple than the usual bordeaux red, but closer to the stains the wine leaves)
- The whole idea of a monster in town came from real-life events: a few years ago, over a period of more than 6 months, young men disappeared quite regularly, some to be found drowned in the perilous riverbed, some totally vanishing out of this world. Some rumours of body organ trafficking even started to spread (but it ddin't sound like something that can happen in this city anyway). So, everyone was wondering what was happening, and the idea of a local monster devouring drunk people partying on the quais and falling in the river came to me. The life cycle of the monster would totally follow the Moon: when full (full moon on the forehead), it would have eaten a lot and be all cuddly and friendly, then it would start to be less and less nice  as it starts to fast until new moon's day (black moon on the forehead), when, empty stomach and bad mood would make it occasionally feed on people drunk on red wine (hey, after all, it's a typical bordelais fellow). It would live in a parallel dimension close to ours, and could cross borders in moon rays reflecting on any surface (especially the beloved Miroir d'Eau (Water Mirror)), and even more easily during full and new moons.
- Besides the delight of having a good Bordeaux to drink, it would feed on grapes and canelés, of course.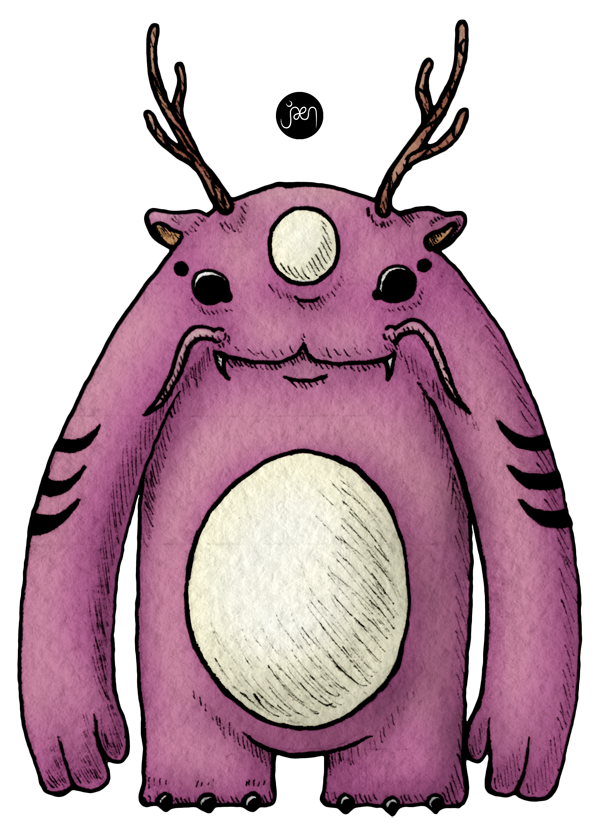 Le bordelon, un projet de character design personnel né de l'envie de créer une créature mythologique locale (Bordeaux) dont la conception reprendrait des éléments de pure bordelucherie: 
- Les bois, en texture boisée, évoquent les ceps de vigne et seraient appelés des "sarments"
- Les rayures en forme de triple lune sur chaque bras viennent du 
chiffre de Bordeaux
, dont le port est appelé "Port de le Lune" en raison de la forme de croissant que prend la Garonne
- La couleur est une version acidulée des tons de vins rouge (beaucoup plus violet que le rouge bordeaux, mais plus proche de la couleur que peut laisser une tâche de vin rouge)
- L'idée d'un tel monstre en ville vient d'évènements réels: il y a quelques années, pendant une période de plus de 6 mois, des jeunes hommes disparaissaient régulièrement, quelques un retrouvés noyés dans la Garonne, d'autres disaparaissant de la surface de la Terre. Des rumeurs de traffic d'organes avaient même commencé à circuler (bien que ça ne ressemblait pas à quelque chose qui pouvait arriver dans cette ville). Ainsi, tout le monde se demandait vraiment ce qui se passait, et l'idée d'un monstre local dévorant les gens avinés faisant la fête sur les quais et tombant  dans le fleuve me vint naturellement à l'esprit. Le cycle de vie du monstre suivrait totalement celui de la Lune: quand elle serait pleine (une pleine lune sur le front du bordelon), il serait rassasié, amical et plutôt câlin, puis il commencerait à devenir de moins en moins sympathique à mesure qu'il jeûnerait jusqu'à la nouvelle lune (lune noire sur son front) où, le ventre vide et la mauvaise humeur le ferait occasionnellement reprendre son alimentation avec un humain rempli de vin rouge (hé, ça reste un bordelais, hein). Il vivrait dans une dimension parallèle proche de la notre, et pourrait franchir l'espace qui nous sépare via des rayons de lune se réfléchissant sur n'importe quelle surface (surtout le bien-aimé Miroir d'Eau), et ce serait d'autant plus facile les jours de lune noire et de pleine lune.
- En dehors de son amour pour le vins de Bordeaux, il se gorgerait de raisins et de canelés, bien entendu.
           Je ne sais pas encore ce que je vais faire avec ce personnage (ça ferait un magnifique designer toy et mascotte), pour l'instant il est juste disponible en tant que 
design pour autocollants et autres supports.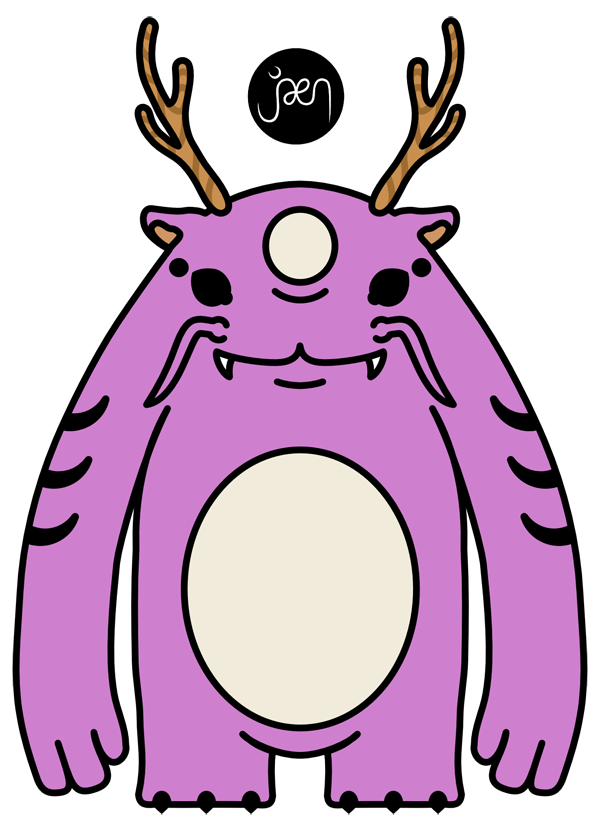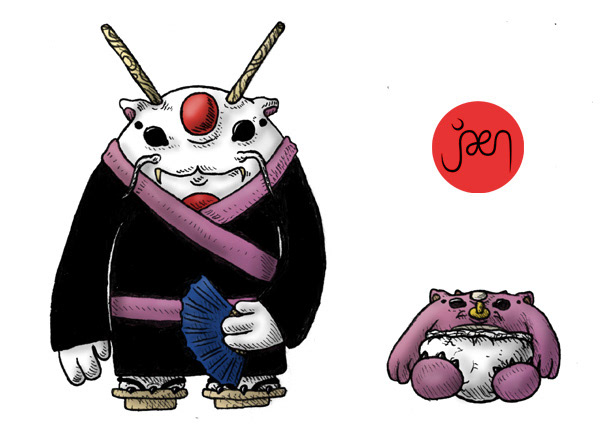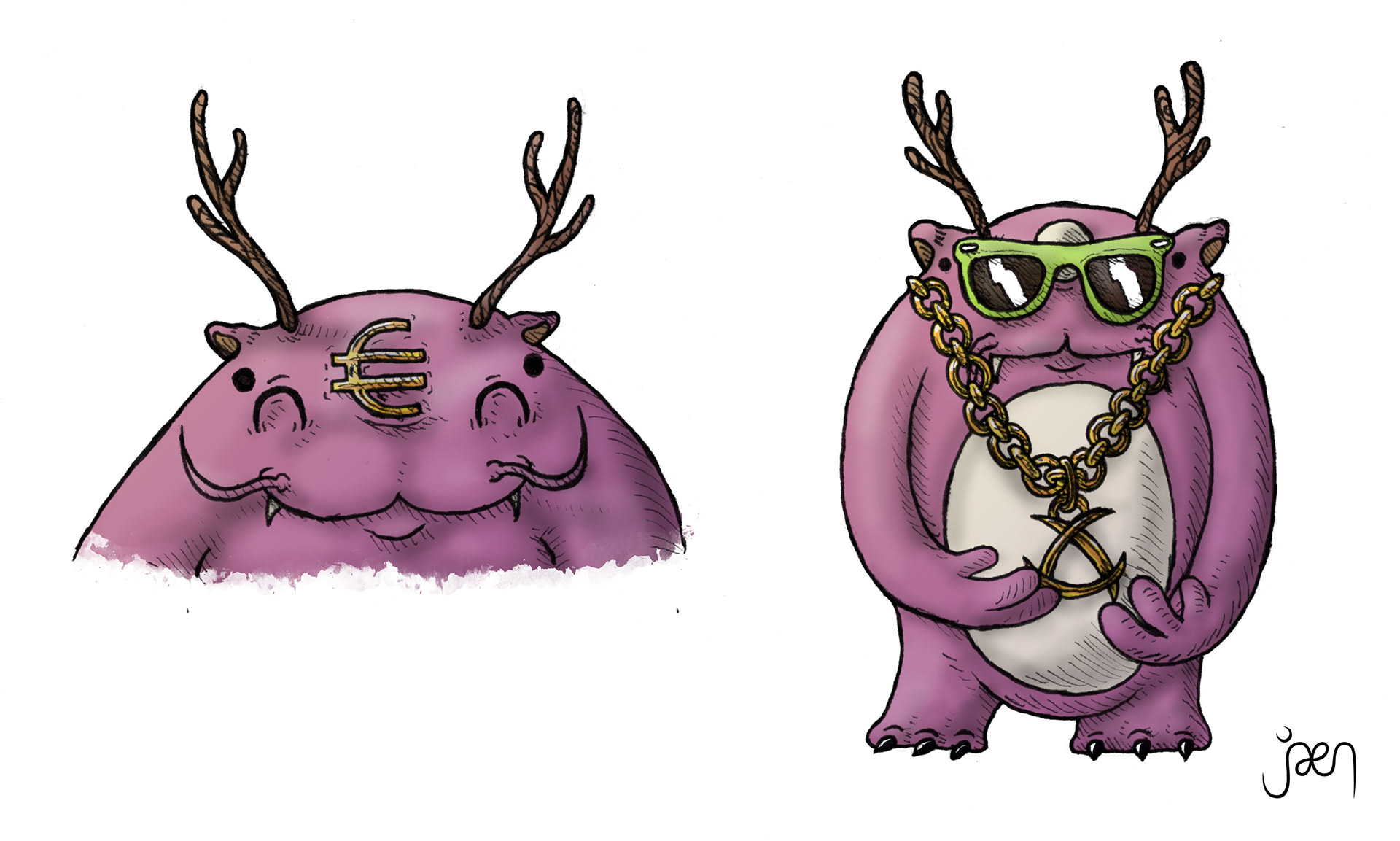 Then, Emmanuelle made it a 3D model and printed it for my birthday!